Gichin Funakoshi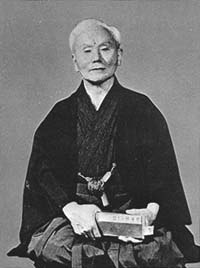 Gichin Funakoshi (1886-1957) was the founder of the Shotokan-ryu style. Funakoshi was born in the Okinawan capital of Shuri into a family of the Shizoku class (upper class). Master Gichin Funakoshi was instructed by Yasutsune Azato and Yasutsune Itosu. He was responsible for introducing Karate to Japan in the 1920's. He was also responsible for changing (or defining, depending how you look at it) the meaning of the word Karate-do.
He changed the 'kara' symbol in Karate from the old symbol, meaning 'China', to the new symbol, meaning 'empty'. In his book Karate-Do Nyumon, he writes: "Just as an empty valley can carry a resounding voice, so must the person who follows the Way of Karate make himself void or empty by ridding himself or all self-centeredness and greed. Make yourself empty within, but upright without. This is the real meaning of the 'empty' in Karate.
"...Once one has perceived the infinity of forms and elements in the universe, one returns to emptiness, to the void. In other words, emptiness is none other than the true form of the universe. There are various fighting techniques - yarijutsu ['spear techniques'] and bojitsu ['stick techniques'], for example - and forms of martial arts, such as judo and kendo. All share an essential principle with Karate, but Karate alone explicitly states the basis of all martial arts. Form equals emptiness; emptiness equals form. The use of the character [for 'empty'] in Karate is indeed based on this principle."
The result of this change is that Karate-do, which formerly translated loosely to 'Chinese hand', now translates to '[the way of the] empty hand'.
---
Chojun Miagi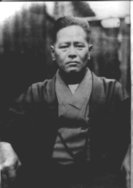 Chojun Miagi (1888-1953) was the founder of the Goju-ryu style, "The way of inhaling and exhaling is hardness and softness." Go means hard and Ju means soft. Since his style was a combination of these ideals it became known as Goju Ryu 'hard soft way'. In Goju-ryu much emphasis is placed on combining soft circular blocking techniques with quick strong counter attacks delivered in rapid succession
Chojun Miyagi was born in Naha City, Okinawa on April 25th, 1888. He began training in karate under Kanryo Higa'shi'onna in 1902. Because of his great natural talent and fierce determination, he progressed very rapidly. Training was very severe, with a lot of running and strength exercises. It is said that he sometimes passed out performing Sanchin kata, so demanding was Sensei Higaonna on his student's performance. He studied with his teacher for 14 years before his teacher's death in 1915.
In 1915 he journeyed to Fuzhou, China, the city where his teacher had studied the martial arts, to further his own research. This was one of three trips he made to China during his lifetime. On his return to Okinawa, he began to teach the martial arts at his home in Naha. Later, he also taught at the Okinawan Prefecture Police Training Center, at the Okinawan Master's Training College, and at the Naha Commercial High School.
In 1921, he was chosen to represent Naha-te in a presentation to the visiting crown prince Hirohito, and gave an impressive performance. He repeated this in 1925 for prince Chichibu. He began to visualize the future of the Okinawan fighting arts, and in 1926, at the age of 38, set up the Karate Research Club, along with Chomo Hanashiro (Shuri-te), Kenwa Mabuni (Shito Ryu) and Choki Motobu, spending the next 3 years training in basics, kata, fitness and philosophy. Chojun Miyagi dedicated his whole life to karate. Every waking moment was spent in pursuit of the art, always remaining vigilante to his surroundings, always planning and ready for whatever might occur.
The teaching system, which he formulated, enabled karate to be taught in schools for the benefit of the young people, and to reach vast numbers of people throughout the world. However, his private teaching at his home remained strictly in adherence to the principles and traditions of the teacher, Kanryo Higa'shi'onna, and his teacher before him Ryu Ryu Ko.
In 1931, Goju-ryu Karate-Do was officially registered in the Butokukai, the center for all martial arts of Japan. This was a milestone for karate as it meant that it was recognized on a level with the highly respected martial arts of Japan. Chojun Miyagi died on October 8th, 1953, of either a heart attack or a cerebral haemorrhage at the age of 65.
---
Ryusho Sakagami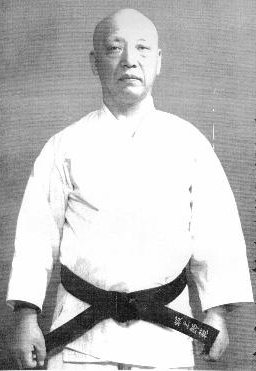 Ryusho Sakagami (??-1994) was one of Mabuni's early students. He established the Shito-ryu Itosu-kai organization, and was appointed by Mabuni to the position of third generation head of Itosu-ryu Karate-do. Sakagami became famous for his knowledge of all Japanese Budo, and was regarded as a walking encyclopedia of styles, lineage, technique, and kata until his death.
Fumio Demura, a disciple of Ryusho Sakagami and one of the most renowned component of Shito-ryu for his exiteful eye-catching public demonstration of traditional Karate and Kobudo, is running the Shito-ryu Itosu-kai in USA with the name of Japan Karate Federation of America which was established in co-operation with Dan Ivan of Shotokan.
In Japan, Sakagami's son (Sadaaki) currently runs the Itosu-kai organization from Yokohama, Japan.
In America, Shito-ryu Itosu-kai is run by Demura under the name JKF America.
In Canada, Shito-ryu Itosu-kai is run by Kei Tsumura.
In Ireland, Shito-ryu Itosu-kai is run by Leo Mulvany.
---
Fumio Demura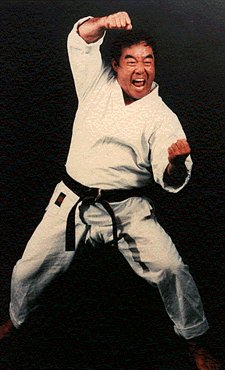 Fumio Demura (??-) was a student of Ryusho Sakagami. He is now in the USA, running the Shito-ryu Itosu-kai with the name JKF America (which was established in cooperation with Dan Ivan of Shotokan).
Fumio Demura currently teaches in his dojo in California. He currently holds the positions of President/Chief Director of JKF International, Director/Chief Instructor of JKF America, and Director/Chief Instructor of Shito-ryu, Itosu-kai Karate-do (USA).
Besides teaching Karate, Mr. Demura is the stunt man for Pat Morita in the Karate Kid series of motion pictures, as well in the O'Hara televison series. His other film credits include, Island of Dr. Moreau, Bring 'Em back alive, and most recently Rising Sun and Mortal Kombat. These are just a few of the numerous films in which Mr. Demura has performed. For years he was featured at the Japanese Village in Buena Park and in Las Vegas. Today, he spends the brief time away that he takes from his Dojo to demonstrate at Tournaments and Charity events. Demura has been featured in many Martial Arts publications.


---
Hironori Ohtsuka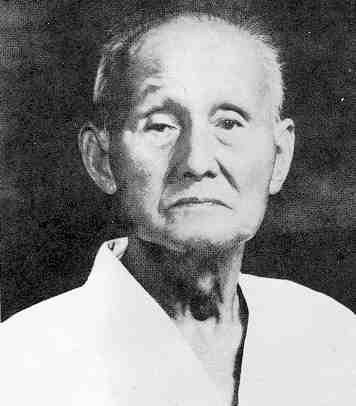 Hironori Ohtsuka (1892-1982) was the founder of the Wado-ryu style, and studied Shotokan under Gichin Funakoshi. Wado Ryu karate was founded by Hironori Ohtsuka during the 1920s and 1930s.
Ohtsuka was born on 1st June 1892 in Shimodate City, Ibaraki Prefecture, Japan. At the age of 6 years he began to study jiu Jutsu with his Grand Uncle. At the age of 13 he started to study Shindo Yoshin Ryu Jiu Jutsu under a teacher named Tatsusabaro Nakayama. Ohtsuka continued his studies whilst at Waseda University. He received the award of menkyo (licence) in 1921.
Ohtsuka heard about a new style of unarmed combat from Okinawa that had been introduced by Gichin Funakoshi. That art was known as Karate. In 1922, Ohtsuka went to visit Funakoshi in Tokyo to study karate. He received the rank of Shodan in 1924 at the age of 31.
During his time training, Ohtsuka developed the concept of pre-arranged sparring in which both participants know in advance what attacks and defences are to be carried out. The exercise could be considered to be a small two person kata for developing skills and learning certain concepts - it is half way between basics and applications.
Ohtsuka also continued his Jiu Jutsu studies, and became a Shihan (teacher grade). He also began to train with other great Karate masters such as Kenwa Mabuni and Choki Motobu.
At this time Ohtsuka experimented with incorporating all his martial art skills into a new form of Karate. Part of this experimentation was the introduction of free-fighting practice. This conflicted with Funakoshi's view of Karate and they parted company.
In 1938, Ohtsuka's new style was accepted by the Dai Nippon Butoku Kai under the name of Wado Ryu. Ohtsuka was also awarded the title of Renshi.
Development of Wado Ryu continued after the Second World War, and in 1966 Ohtsuka was awarded the Shiju Hoosho Medal from Emperor Hirohito.
Hironori Ohtsuka died in 1982, shortly before his 90th birthday. Today, Wado Ryu is practiced all over the world.
---
Choki Motobu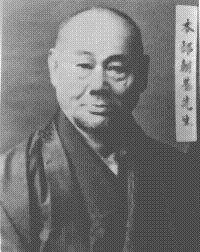 Choki Motobu (1871-1944) was born in 1871 in Akahira village in the Shuri region of Okinawa. He was the third son of Motobu "Udun", a high ranking aji or lord. The Motobu family were skilled at the art of Ti (a grappling art of the Okinawan nobility). Motobu did learn some of the techniques of his family's fighting system, but because of Okinawan tradition, only the first son, Choyu, was educated and choose to carry on the family's martial tradition. Because of this situation, he went looking for instruction elsewhere.
Choki began training extensively with makiwara and lifted heavy rocks to gain strength. He endeavored to become as strong as possible and trained with ferocity. He became known as "Motobu zaru" or Motobu the monkey because of his agility and speed. Eventually, Motobu became the student of Anko Itosu (one of Mabuni's sensei). Now a young man, Choki spent a lot of time seeking out strong looking men to challenge on the street. He won most of his fights and learned much from these encounters. Itosu sensei was not impressed by the young man's bullying and promptly expelled him form the dojo.
Motobu's aggressive behavior soon earned him a bad reputation and many sensei would not teach him. Once man, however, liked the spirit he showed and accepeted him as a student of karate. This man was Kosaku Matsumura of Tomari. It was from Matsumura that Choki learned many Kata. Motobu still challenged others to fights often and was eager to develop and improve his fighting skills. He eventually asked Matsumura to teach him kumite, but Matsumura told him to continue to learn on his own. Motobu, however, was persevering and is said to have watched the kumite training through holes in the fence around Matsumura's dojo.
Motobu's street fighting served him well (to the detriment of many). He formulated his own formidable style of kumite and began to get much attention in Okinawa and in Japan on his trips to the islands. One day while in Kyoto he witnessed a contest where people were asked to match skills with a foreign boxer. A friend coaxed Motobu to give it a try.
The boxer was arrogant and goaded Motobu constantly. For two rounds Motobu just avoided the boxer's attacks. In the third round he had enough. He used a practiced technique and promptly knocked the boxer out. The crowd was quite taken aback. They had never seen this kind of fighting. Motobu had simply struck his opponent with a fore knuckle in the temple; a basic technique. Needless to say, Motobu quickly gained a reputation as a master and many curious people came to learn this mysterious new art. Soon, Motobu became a full time teacher.
During this time, Motobu gained great respect for his fighting ability. He was hailed as the greatest fighter in Japan. Many sensei advised their students to go and train with Motobu and learn his kumite techniques ( for obvious reasons). He was also asked to teach at several universities. Because of this, many of today's great instructors of various styles had the benefit of his instruction, so it is clear that his was a large influence in karate.
Motobu usually only taught naihanchi kata to his students and it was his own version with many Ti-like grappling and throwing techniques. However, it was his kumite that had the greatest impact on karate. Oddly enough, there is a story of Choki, full of confidence, challenging his brother Choyu to a fight. It is said that Choyu threw Choki around like a rag doll. After the experience, Choki is said to have humbled himself and adopted more of his family's Ti forms. In 1922, Master Motobu helped Master Funakoshi start the teaching of Karate to the Japanese. Filled with a new outlook on his life, Master Motobu returned to Okinawa in 1936 and began training with Master Kentsu Yabu. Master Yabu was only man to have ever defeated Master Motobu.
Later in life, Motobu seemed to stress the importance of tradition in training. He strongly stressed the importance of makiwara training and became as enthusiastic about kata as he had always been about kumite. In 1936, at the age of 65, Motobu left Tokyo and went back to Okinawa to visit his instructors to talk about the state of karate in Japan and to make sure that he was teaching the kata and techniques in their originally, unaltered form. Subsequently, he returned and continued teaching in Tokyo. Shortly before World War II, he returned to Okinawa and died in September of 1944 of a stomach disease at the age of 73.
It is obvious that Choki Motobu was very instrumental in the development of karate and that he was the inspiration for many who trained in the art. It is good to see that, today, millions of people still keep the art alive and strive to keep the fighting spirit of karate which Sensei Motobu so dearly loved.
From The Coslet's Karate Newsletter September, 1992
---
Kosei Kokuba
Kosei Kokuba, the father of Shogo Kuniba, was the founder of Motobu-ha Shito-ryu. Motobu's teaching had a great impact on karate and especially on Kosei Kokuba. Kokuba combined his learning from Mabuni and Motobu and created Motobu-ha Shito-ryu karate.
Kosei Kokuba was born in Naha City, Okinawa in 1901 the youngest son of a samurai family descended from the Sho-Shi royal family of Okinawa. At the age of 14, he began karate training in the dojo of Masto Choki Motobu. In 1924 he moved to Tokyo, Japan and in 1940 he settled in Osaka where he began training students in the Okinawan style which he had studied. On June 6, 1943 Kokuba founded Seishin Kan Dojo.
Later, when his friends from Okinawa, Motobu and Kenwa Mabuni came to Osaka, he gave them room and board in exchange for their teaching at the Seishin Kan Dojo. He received training in Shito-ryu karate from its founder Kenwa Mabuni. Kokuba's other instructor was Choki Motobu. Kokuba taught the Motobu style of Karate and upon Motobu's death in 1947, he became the Soke or family head of Motobu-Ha Karate-Do.
In Okinawa the Kanji characters for Kosei Kokuba are pronounced as Kosei Kokuba but in Japan, the same characters are pronounced as Yukimori Kuniba. To avoid confusion he changed the pronunciation of the family name to Kuniba.
---
Shogo 'Soke' Kuniba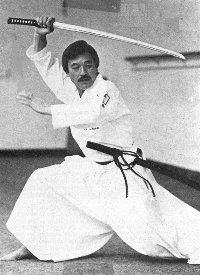 Shogo Kuniba, the son of master Kosie Kuniba was born on February 5, 1935 in Yamanashi prefecture near Mt. Fuji in the city of Fuji-Yoshida-Shi. The son began his karate training at the age of 5 in his father's dojo. At the age of eight he was sent to study with Tomoyori Ryusei of Kenyu Ryu. Master Kuniba wanted his son to be a true samurai as were his ancestors and, as a true samurai, of 8, Shogo also began to study judo in an Osaka Dojo. He continued his training in Judo for ten years and earned a sandan rank.
In 1947 at the age of 12, he bagan training with Master Mabuni in Shito-Ryu and was soon promoted by Mabuni Sensei to Shodan in Karate. In 1950 he was promoted to Nidan by Master Mabuni and Master Tomoyori and in 1952 earned a Sandan rank.
As a high school student, Shogo was president of his karate club. At the age of seventeen, he began teaching karate at Osaka Prefecture University and there is still a branch dojo of Seishin Kai ther today. After high school, he trained in Karate at Keio University and later trained at Doshisha University while he was a student there.
In 1955 Shogo was promoted to Yondan by Tomoyori Sensei. During that year he was also promoted to Sandan in Iaiso and Yondan in Kobudo. In 1956 he traveled to his father's homeland of Okinawa where he trained with Master Nagamine Shojin in this style of Shorin-Ryu. While in Okinawa, he studied Kobudo with Taira Shinken and Nakaima Kenko of Ryuei Ryu. With Yamaguchi Junko, he studied the use of the tonfa.
In 1983 he opened a Hombu Dojo in the USA in Portsmouth, Va. He then concentrated his efforts on teaching his style of karate-do to the world. The Seishin Kai is growing in the USA and is now beginning to growing in the USA and is now beginning to grow in Europe, Mexico, Israel, Sweden, South America and the West Indies.
Soke Kuniba adhered to the teaching and the philosophies of the Okinawan masters from who he is descended. He believed and taught that the true goals of karate-do are the development of patience, self-discipline, humility and inner strength (ki).
---
Note:
It may be noted that Yasutsune "Anko" Itosu and Kanryu Higa'shi'onna are the two most important name in the history of modern Karate-do. The four major style of Modern Japanese Karate:- Shito-ryu, Shotokan-ryu, Goju-ryu, and Wado-ryu, can be traced to them .
Kenwa Mabuni (1887-1952), the Shito-ryu founder, was a student of both Yasutsune "Anko" Itosu & Kanryu Higashionna.
Gichin Funakoshi (1886-1957), the Shotokan founder, was a student of Yasutsune "Anko" Itosu (also of Azato).
Chojun Miagi (1888-1953), the Goju-ryu founder, was a student of Kanryu Higashionna.
Hironori Ohtsuka (1892-1982), the Wado-ryu founder, was a student of Gichin Funakoshi, shotokan.
--------------------------------------------------------------------------------------------------------
Ki Training Manual
This manual is for the benefit of every good and honorable martial artist in this world, so we can work together and learn to master the true power within ourselves. For if we can master ourselves, we can be at peace with each other. The art of war is also the art of peace, for only those who experience war can truly understand it's evil. My work is done in the hopes we will never have another war and that this knowledge does more good than evil. Remember that everything that goes around comes back around again. Consider yourself warned and never abuse this knowledge.
*Any technique I create here can be altered, for the only way to master ki is to become independent of all other styles. You must create a way that feels right to you. These can be a foundation for your own personal fighting style.*
Disclaimer-Not everyone is the same, so please keep this in mind and do not overexert yourself. If you every feel sick in any way, discontinue these exercises until it passes. If you constantly feel sick each time you do these exercises, re-look these over to see if you made a mistake. If you did not, try to lower the intensity in some way by making a variation in an exercise. If that still does not help, discontinue practice altogether and see a doctor, you might be sick. Also, do not perform any intense exercises while sick or on mind-altering drugs or medications, or if you are pregnant. Please use common sense.
Meditation to store ki
Sit on the floor with your legs crossed so that your ankles are touching. Then, cross your wrists and grab the calf opposite of your arm. (I.e. right arm grabs left calf.) The purpose of crossing your wrists and ankles is to hold or contain the ki energy you are going to harness, so that it cannot escape through the two openings of your body (palm of hands and soles of feet).
Close your eyes and breathe in through the nose and out the mouth. As you breath in, visualize the earth's energy (in a green glow) coming into your body via a small "gateway" in the base of your spine. Visualize the energy vacuuming up into the swirling gateway and your abdominal area. Hold the energy in your abdominal area as you hold your breath calmly. As you hold the energy there, visualize it moving rapidly up and through your body. It should travel through your chest and up to your brain. Make sure it is traveling SLOWLY, as you do not want to force the energy too much. You are simply directing it through your body. The energy should also travel through your arms and legs. Basically, you want it to fill your entire body.
When you can not hold your breath any longer, empty your lungs and as you do so, visualize the waste air leaving your body to be re-charged by the Earth. Repeat this cycle, going each time slower and deeper as you do it. The energy you develop here will be your "fuel tank" or "reserve" energy that you will use when you practice a ki technique.
If your body starts to vibrate, do not be alarmed. It sometimes happens and sometimes doesn't. It depends on how much energy you are taking in. If you start in any way to feel sick or odd, STOP performing this meditation until the feeling goes away. Perform daily for maximum benefit.
Ki visualizing tech (This technique was sent in by Chee Fatt at sifuhiu@tm.net.my )
Chi is your life force energy. It is an extension of your body much like your arms and legs. The only real difference between your arms and your ki is that your ki is not activated by sub conscious thought.* You must visualize what you want the ki to do. This is why a visualizing tech is needed.
Think of visualizing as your intention. You must be much like an artist- you will "draw" in your mind what you desire the ki to do, using your imagination. Also, remember that your very will IS the ki. But it should not be an order. Do not force your ki. "You can bring a horse to the water but you can't make him drink." is an old saying can be likened to ki. You can tell it what to do and make it a strong order, but if your ki is not able to do the desired effect it will not. It may take quite a lot of practice to always gain the desired effect, but it will eventually come.
For starters, you should use a stance familiar to you (the guarding or fighting stance in your art is usually best), relax, and imaging there are powerful forces pulling and pressing from all directions. The most important ones are the 2 imaginary opposite forces running from your spine. One pushing up from your head to the heaven and the other down stamping into the earth. Maintain in the posture fully relax for 5 minutes and work your way up gradually Loosen-up when you feel tense.. Very soon you will find chi bursting-out and your whole body inflated. This is `Wu Chi' (Ultimate emptiness manifesting Yin/Yang). Try it, you will feel the difference and in just 1 week you will notice significant increase in chi. After 3 months with 10 minute practice sessions daily, you will be amazed how powerful you're ability to activate ki will have become.
*Ki will eventually be under your sub conscious control with practice, as any other martial art tech does after repeative use.
Ki ball construction (this exercise was adapted from the Psion Guild's psi ball exercise)
Ever seen a japaneese anime cartoon where a character, such as Ryu on Street Fighter, creates a ball of ki in their hands to perform a ki blast? Well, a ki ball can actually be created. Practicers of a psychic art form, called Psionics, start their training by learning an energy maniulation and transformation technique called the Psi Ball. Since psi and ki energy* is technically the same thing, a ki ball can also be created.
A ki ball is used for two reasons other than for attack- energy manipulation and energy transformation. The first reason, energy manipulation, is another way for your body to become acustomed to using ki energy, much like the ki visualization tech does. The only real difference is that you are going to have more options to use the ki for, and martial purposes is one. The other difference is that a ki ball will teach you ki transformation which can if nothing make your body use ki more effeciently. I will focus on ki transformation in a little while, but first I want to tell you how to make a ki ball.
First, you should ground yourself. Then once grounded, pull energy up into you from the Earth and channel it through your arms toward your hands. Couple your hands like you are holding an invisible baseball or tennis ball. Imagine that the energy is going through your hands and swelling into a ball in the middle of your hands. Let it swarm, constrain, and become more powerful as you add more power to it. You should feel the power in your hands as a "tingling" or as I like to say, a "vibrating" feeling. If you cannot feel the energy, try adding more power to it. You will not be able to see the ki ball from the start. Hopefully, as you become more adapt at making a ki ball, you will create one that is powerful enough for you to see*1.
Now for the fun part; ki manipulation. Basically, you are going to change the ki ball into something more exotic or different. Maybe you'd like to imitate a favorite anime and change your ki ball into a sphere or flame of ki. Perhaps you'd like to toss the ki ball back and forth between your hands. You can create anything your imagination can conceive from your ki ball as long as you can see what you want clearly and you focus on the object.
* Psi and ki are different usages of life force energy. They are composed of the exact same thing, life energy, but the two are not the same. Ki energy can be combined with the physical body while psi energy cannot. However, ki energy is not as powerful psychically as psi energy is. More on this later.
*1 Your "third eye" must also be trained before you will see anything, although a ki ball is part of the training for the third eye as all ki usage is.
Experimental Exercise to perform a low level Ki blast
Focus your ki through your target using your eyes and mental image. Tighten every muscle in your body, and while doing this, imagine your ki focusing into your body and radiating. This energy will travel up into your hands. Perform a double open handed strike from the center of your abs, and when you want to release the ki, tighten your hands while stretched out as hard as you can. While the hands are tightened, focus the ki as a destructive force that will harm your target, pushing it back as your blast reaches it, then going through it. Perform this movement as fast as you can.
All techniques use the ki you have stored, so do not drain yourself with overdoing these practices. It will take time and hard effort to train your body to absorb and transmit ki efficiently (that is why the masters are so old) so does not be discouraged. Every one has a different level of power they are born with, but all have the potential to achieve "super-human" energy level, where legend has it you can become immortal.
Experimental exercise to create a low-level psychic shield.
There are three ways to do this- and should be practiced in the presented order-
Level One Exercise-
Before a ki storage meditation, imagine an energy shield surrounding your body from five inches away. It should contain your astral self (if you've haven't heard about this, learn) and all of your energy. Constantly imagine this shield around your body, blocking any other energies except the ones you want to let in (earth energies which will come from below). It will protect you from other ki also. It will stop your ki from being drained by one who can drain ki. It will protect you entirely from a psychic perspective. It will also contain any energy you charge up. You must visualize this shield around you as a colored energy and closing your eyes helps. A dark color, such as green, purple, or red will work. DO NOT USE A LIGHT COLOR!!! Dark colors will bounce energy away, while lighter colors will not only let energy through, it will also enhance them. When you can put your shield around you without closing your eyes, move on to level two.
Level Two Exercise-
During the day, tighten your psychic shield around you the whole day. You will not get this right away, so be patient and practice. Keeping your shield around yourself for a full day is your ultimate goal in this exercise. This will train you to keep your shield around you subconsciously, so it is extremely important that you master this before moving on to level three.
Level Three Exercise-
WARNING- This is an experimental exercise that I am not sure will work, so the effects are entirely on speculation. If you practice this exercise, you are putting yourself at possible psychic and physical threat. Use your head with this one.
The goal of this exercise is to learn to block powerful psychic attacks, including those that utilize ki. First, start with putting your shield around you and a friend throw "negative thoughts" at you. They are going to try and cause some sort of harm to you on a psychic level, possibly on that of a low physical one (headache, stomachache). You must imagine stopping these energies with your shield, and if you feel necessary, deflect them back at your friend. Be cautious.
Next, you must practice blocking ki with your shield. Have your friend throw low-level ki blasts at you, extremely light. You are going to look past him/her and strengthen your shield with your ki, and block or stop it. Again, you can even deflect it back at him/her. Be cautious.
The last one is creating a force field around you, that no one or thing can penetrate. This shield can go extend around you for at least two yards, possibly more. You will sit down, cross your legs and meditate. While meditating, imagine a force field around your body for two yards, harming any who try to penetrate it. It will stop them and block them from coming in. Focus hard and use your ki to create it. You will need another person to try and enter this force field to know if it will work or not. Be cautious, for this is a defensive and offensive technique and can harm someone.
Ready charge-
This is a reaction charge. It will increase your awareness of all attacks at you. Very useful when you think you might be attacked. Simply visualize your energy surrounding you, ready for you to use in an incredible attack of speed and strength. Watch everything around you carefully and from the corner of your eyes. Use Kung-Fu technique "soft eyes" (not looking at target) to watch everything around you.
Tips on using ki for fighting
(submitted by Chee Fatt)"The ultimate fighting emotion is not violence, strangely, it is compassion with a steady awareness. Try it in your sparring session, you will realize this truth."

These techniques have been created by me, MisteryShadow, unless otherwise noted, and can be distributed as necessary as long as a link is made back to my page. Those that are otherwise posted are to be asked before used.
Understanding Ki
In order for you learn ki, it is essential that you understand it. Therefore, I have compiled a short lesson that will help you establish a foundation for understanding how ki works. The first you must learn, is the Theory of Yin-Yang.
Yin-Yang Theory
"The yin is the ancient Chinese feminine principle and the yang is the masculine; together, they represent universal complementary opposites, dualities. The yin comes before the yang because it is the primordial darkness that exists before the lightness of creation Yin is the Earth, Yang is the Heavens"
This means that there are two main elements that control all other forces in the Universe. Yin represents darkness, emotion, and strength. Yang represents light, thought, and defense. Yin has long been associated with feminine and evil, while Yang has represented masculine and good. However, I do not follow that belief, since I see that you cannot attack without having an evil nature based on this belief. Attacking is not evil; it is not that simple. It is impossible to defend oneself against another without attacking. That is not evil, it is good. You cannot fight for what you believe in or protect others without yin. Evil cannot be classified that easily. The belief that darkness is evil is also undeserved, because that would mean at night, the world is covered in evil. Very odd, since many, including myself, enjoy the nighttime for it's romantic gleam and mystery. I for one am not afraid of the dark, especially when there are worst things to fear like taxes. Also, if Yang represents good and male, does that make woman (Yin) an evil creation? No, it does not for evil and good cannot be limited to any classification of any type. They depend on circumstances of events, not systematic definitions.
Here is some more depth on Yin-Yang to help you understand it's importance-
"The essentials of the yin-yang school are as follows: the universe is run by a single principle, the Tao, or Great Ultimate (also known as God or Void). This principle is divided into two opposite principles, or two principles, which oppose one another in their actions, yin and yang. All the opposites one perceives in the universe can be reduced to one of the opposite forces. The yin and yang accomplish changes in the universe through the five material agents, or wu hsing , which both produce one another and overcome one another. All change in the universe can be explained by the workings of yin and yang and the progress of the five material agents as they either produce one another or overcome one another. Yin-yang and the five agents are, I need to stress, a universal explanatory principle. All phenomena can be understood using yin-yang and the five agents: the movements of the stars, the workings of the body, the nature of foods, the qualities of music, the ethical qualities of humans, the progress of time, the operations of government, and even the nature of historical change. All things follow this order so that all things can be related to one another in some way: one can use the stars to determine what kind of policy to pursue in government, for instance.
The yin and yang represent all the opposite principles one finds in the universe. Under yang are the principles of maleness, the sun, creation, heat, light, Heaven, dominance, and so on, and under yin are the principles of femaleness, the moon, completion, cold, darkness, material forms, submission, and so on. Each of these opposites produces the other: Heaven creates the ideas of things under yang, the earth produces their material forms under yin, and vice versa; creation occurs under the principle of yang, the completion of the created thing occurs under yin, and vice versa, and so on. This production of yin from yang and yang from yin occurs cyclically and constantly, so that no one principle continually dominates the other or determines the other. All opposites that one experiences-health and sickness, wealth and poverty, power and submission-can be explained in reference to the temporary dominance of one principle over the other. Since no one principle dominates eternally, that means that all conditions are subject to change into their opposites.
This cyclical nature of yin and yang, the opposing forces of change in the universe, mean several things. First, that all phenomena change into their opposites in an eternal cycle of reversal. Second, since the one principle produces the other, all phenomena have within them the seeds of their opposite state, that is, sickness has the seeds of health, health contains the seeds of sickness, wealth contains the seeds of poverty, etc. Third, even though an opposite may not be seen to be present, since one principle produces the other, no phenomenon is completely devoid of its opposite state. One is never really healthy since health contains the principle of its opposite, sickness. This is called "presence in absence." Once you have this principle down, the particular Chinese view as expressed in literature, art, and history will become immediately evident."
Now, let us look at Ki directly-
Ch'i (Chinese) or Ki (Japanese) is the internal force in our bodies, the manifestation of our spirit. The source of this power is the Tan Tien (Chinese) or Hara (Japanese). This Tan Tien is located about 3" below the navel, and in the center of our bodies. Not so coincidentally this is also where the center of balance for the average human is. The name comes from the idea of "center", and represents our center; center of the spirit, soul, power, and balance. There is a physical center, and a center of balance -- so describing that as a "spot" Tan Tien) is a convenient construct for understanding.
While it is convenient to dismiss this construct, we should not do so too quickly. There is a physical center of balance -- pretending that it is something more may have its benefits. You may not believe in an "power" running through your body, or a spirit/soul. You may not believe in the Tao - the power of nature existing everywhere (westerners might call this the holy ghost). But always remember that faith healers do help some people. Placebo's are also very beneficial. Visualization in martial arts and sports does cause an increase in performance. So think about it before you dismiss it.
In the case of acupuncture, accupressure, shiatsu massage, and other oriental medicine, the body is not as broken down into component parts as much as it is looked at interlocked systems, and balanced as a whole. In Oriental medicine there are pressure points or trigger point that stimulate different systems, and by balancing the energies (Yin and Yang) in these systems you can tune the whole. These energies (Yin and Yang) collectively are the Ch'i or Ki in our body, and it is this flow of life force through our body that keeps us healthy. There is another force that runs through all things in nature (and is nature itself), this is partly an explanation of the Tao (or Taoism).
Many Asian cultures seem to look at the world much more holistically than westerners. Things interact as complex systems, and through understanding the whole, they try to understand the parts. This is why the Japanese can use a mundane task like archery as a way to understand Zen Buddhism (and themselves). They are trying to understand things (life) by grasping the whole. Not fighting to learn, or challenging, sometimes just existing until understanding comes on its own.We westerners tend to be more deconstructive -- always trying to break things down into its component parts -- then understanding the parts. Then later we try to look at all those component parts and see how they relate to the whole (reconstructing). They are different ways to look at the world. The more I have tried to understand the Oriental perspectives, the more I have learned about myself. But that sounds suspiciously oriental in its holistic outlook.
In the oriental medicines, they have designated systems or organs in our bodies that scientifically don't exist (as defined). Yet, stimulating these nonexistent organs (systems) gets the desired results anyway. So while western medicine and science can disprove the existence of organs like the preheater, etc., manipulating that construct still gets the desired results in many cases. So surprisingly, even if the construct is wrong (inaccurate), it does not mean that the results will be wrong. Ancients though that the sky was painted on, and spinning above us as a ceiling -- yet they still accurately mapped the constellations and predicted many astrological events. Even Western medicine also doesn't always agree with itself -- as in Chiropractors, etc., but their are many that have received the real and physical benefits of these "charlatans". As time progresses the scientific community is learning that there are results that can not always be explained. The Chinese and to a lesser extend the Japanese are a mystical people. Many Orientals have chosen to define these results with a mystical definition, and though all the definitions might not be accurate, results are results.
Our entire system of math and science is based on (or is just a collection of) many HUMAN constructs. Einstein's theory of relativity or the speed of light is not some immutable law. It is an observation and construct of man to explain relationships. It may accurately match the universe we live in (or maybe not) but for now, these constructs (called laws or theories of science) do help us understand and grasp problems. Even our laws of science have changed (been revised) as we learned more, so our constructs are not flawless -- we need to balance skepticism and scientific theory with an understanding of who and what we are.
The more scientific definition of Ch'i is based on some interesting facts. We (humans) have an amazingly complex electrochemical and electromagnetic system in our bodies (nervous system). By training our brains and bodies to utilize our nervous system and muscles to their full potential, and using technique, visualization and proper use of energy, we are able to do incredible feats. Since we don't understand the full effects of this electrical, chemical or magnetic energy, we don't understand its limitation. So the feats of Ch'i that are seen as "magic" are not impossible, just not fully understood. Many Ch'i demonstrations are parlor tricks, but there is a percentage that is not. Using visualization, timing, coordination, training and body mechanics, it is quite possible for anyone to hit harder than other non-martial artist or do other "tricks". For Americans, it is explained best to us in constructs that we understand (physics, training, timing, visualization) - The Chinese just describe it as a good use of Ch'i. There are elements to this "power" that I do not understand -- but understanding it is not necessary for utilizing it. Just like a complete understanding of astrophysics was not necessary for ancients to create calendars and predict the seasons, phases of the moon, or track the planets.
I hope now you can understand the concept of ki better, now that you have been exposed to the more common knowledge of it. By knowing the concepts of ki, you can not only perform the exercises more efficently, but you can also create your own. For example, by knowing that ki resides in your abdominal area, you can start your most powerful strikes from that area, and gain better access to ki. By applying science to that, you also see that not only are you adding ki, but gravity if you lower your hips and knees as you strike. You can create a powerful combo of your body mass, gravity, speed, muscular strength, and ki. Quite a powerful strike indeed. Also, by knowing vital areas, such as the kidneys or liver, and perform the strike, you can gain even better results for these areas are less resistant to your energy and can more efficently and will create more damage to your opponet. Constantly learn as much as possible to increase your abilities; for knowledge is the true power that is the foundation for every act you will every make in your entire life.